Pressure Equipment Directive (2014/68/EU)
The Pressure Equipment Directive (PED) (2014/68/EU) applies to the design, manufacture and conformity assessment of stationary pressure equipment with a maximum allowable pressure greater than 0.5 bar. The new Pressure Equipment Directive (PED) was published in the Official Journal of the European Union L 189 on 27 June 2014. The new Directive 2014/68/EU replaces the old PED 97/23/EC.
Pressure Equipment includes:
Pressure Vessels
Boilers
Piping
Valves
Safety Valves
Pressure Accessories
Assemblies of pressure equipments
Conformity Assessment Procedure for CE certification
We as channel partners in India to EU notified bodies carry out conformity assessment of products according applicable categories (.i.e. Category I, Category II, Category III, Category IV)
The manufacturer of pressure equipment must subject each item of pressure equipment to the conformity assessment procedure described in Annex III of the Directive, before it is placed on the market. This procedure is determined by the category in which the equipment is classified. Once category is determined, a manufacturer can select any of conformity assessment procedure called module of his choice according to the category.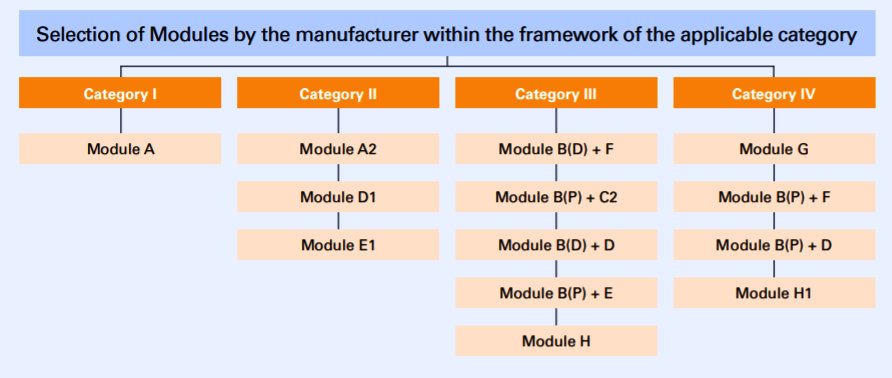 What QVC can do ?
We at QVC in cooperation with its alliance partners in Europe provide following Services in connection with Conformity Assessment of pressure equipments according to the selected module.
Design assessments (PED modules B / G / H1)
Inspections (PED modules A2 / C2 / F / G)
Verification of quality systems (PED modules D / D1 / E / E1 / H / H1)
Material assessment (Manufacturers Material Certification / Particular Material Appraisals)
Quality System approval (certificate of specific product control) of Material manufacturer's (mandatory requirement as per Pressure Equipment Directive for cat II, III, IV) According to AnnexI, para 3,
Issue Certificate of Conformity and EC type examinations
Welder approval (WPS/WPQR) as per European standards (EN ISO 15614-1/EN ISO 9606 series, EN ISO 14732 etc)
Why QVC?
QVC as a Certification Body involved in Certification & assessment is
Impartial
Having trained personnel having knowledge of requirements of assessments
Having adequate facilities or access to facilities like testing, documentation of regulation/standards needed to perform technical & administrative tasks
Maintaining confidentiality of the information gained during the assessment of a particular task
Involved in coordination activities organized by competent organizations
Your Benefits At A Glance
With our comprehensive solutions for Pressure Equipment's Conformity Assessment you can:
Ensure product conformance, safety and compliance with occupational health and safety requirements in Europe and worldwide.
Reach full compliance and certification prior to product placement.
Gain competitive advantage and greater market access with certification marks from an international Notified Body.
Tools used for Easy Access of database, reducing waiting time for documents to be transferred between agencies through conventional methods.
Reduce risk of company liability with documented safety standards.
Benefit from our exclusive one-stop service, covering a wide range of international certification from a single source.
Count on our auditors & experts to ensure compliance with the European directive and national regulations,
RELATED SERVICES
Certification of quality management systems (ISO 9001)
Environment management systems (ISO 14001)
Welder Approval
Certification of occupational health and safety management system (OHSAS 45001)
Assessment of conformity of products to the requirements of European directives (CE marking of products)